Elsebeth Gottschalck bor og arbejder i Klampenborg, men er født på Frederiksberg. Allerede som 9-årig tegnede hun så gode abstrakte billeder – se eksempel på denne side, at kunstneren Poul S. Nielsen roste hende i høje toner. Som barn tegnede hun også vellignende portrætter– se blyantsskitse på denne side – og i barndomshjemmet hang billeder af de internationalt kendte kunstnere Gerda Wegener og Einar Wegener (siden Lili Elbe), som var gode venner med Elsebeth's farmor, der også tegnede.
Der skulle dog gå mange år, før Elsebeth tog sig tid til at udfolde sine kunstneriske drømme. Alligevel har kunsten og kærligheden til det visuelle altid været et omdrejningspunkt i hendes liv, via hendes beskæftigelse først indenfor modebranchen, som selvstændig importør og senere via ejendomshandel – begge dele med mange udenlandsrejser. Det visuelle er en måde for Elsebeth at opleve omverdenen på – betragte harmonien og disharmonien i omgivelserne og det overraskende element. Intet kan fange Elsebeths opmærksomhed, som en usædvanlig eller smuk farvekomposition og livets fascinerende mangfoldighed.
Efter en række kurser i tegning, croquis og portrætmaling hos Skolen for Brugskunst, Ulrik Hoff, Ole Tandrup og andre har Elsebeth udforsket mange genrer indenfor tegning og maling – lige fra geometriske abstraktioner til surrealistiske akvareller til egentlig figurativt landskab- og portrætmaling. Det er dog altid mennesket og naturen, gerne i samspil, som hun vender tilbage til.
Elsebeth er opvokset omgivet af de rene skandinaviske linjer i kunst og indretning med tendens til en kølig farveskala, men efter langvarige ophold i Spanien og Frankrig har de solmættede omgivelser med kraftigere farvemætning også inspireret. En serie billeder tager udgangspunkt i picnics, stranden ved Nordsjælland og "spejlinger" af både natur og i menneskers spejling af kropssproget. Nyeste serie er malet i Corona-tiden og omhandler følelsen af isolation. Inspirationen kommer fra erindringsbilleder, udklip fra trykte medier og fri fantasi.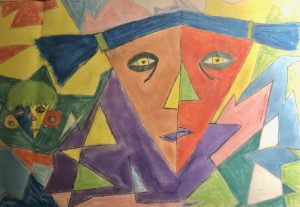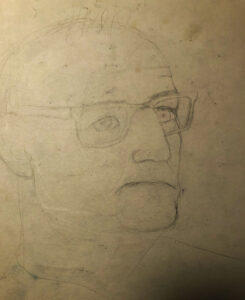 Elsebeth Gottschalck lives and works in Klampenborg, north of Copenhagen, Denmark and was born in Frederiksberg, Copenhagen. Already as a 9-year-old she drew such good abstract pictures – see example on this page, that the artist Poul S. Nielsen praised her in high notes. As a 12-year-old, she drew good portraits – see pencil sketch on this page – and in her childhood home hung pictures of internationally renowned artists Gerda Wegener and Einar Wegener (later Lili Elbe), who were good friends with Elsebeth's grandmother, who also drew.
However, it would take many years before Elsebeth took the time to fulfill her artistic dreams, as an artistic career often would be connected with financial uncertainty. Yet art and the love of the visual has always been a turning point in her life. A way to experience things. To consider the harmony and disharmony of the surroundings and with an eye for the surprising element. Nothing can catch Elsebeth's attention, as an unusual and beautiful color composition and life's fascinating diversity.
After a number of courses in drawing, nude model sketches and portrait painting at the School of Art, at painter Ulrik Hoff, Ole Tandrup and others, Elsebeth has explored many genres in drawing and painting – from geometric abstractions, surreal watercolors paintings to actual landscape painting. However, it is always the humans and the nature and their interaction to which she turns.
Elsebeth grew up surrounded by the pure Scandinavian lines in art and interior design with a tendency to a cool color scale, but she also lived in Spain and France and enjoyed a life in warm saturated surroundings with warm tones. Art series deals with family outings to the forest and the Danish North Sea shore's variation influenced by the effects of nature. The latest serie is painted during the Covid-19 period and shows people with a feeling of isolation.
Tag et kig på hendes seneste værker!
Take a look at her latest works!